Week 13: June 2-9
Still in Deltaville.Still getting the boat's boo-boos fixed. But as they say, while in Rome…..
We have met some great friends and have adopted Virginia as a second home. Deltaville is a town of 1,100 residents, with one 2-lane main road, and no stop lights that I know of. But there are 10 marinas and prolly just as many boatyards. So everything is geared towards boating. Everyone is laid back, friendly, and likes to enjoy an adult beverage or two. My kind of peeps! We miss our other boating friends we met in Georgia and the Carolinas, especially the Frenchies! They are all past NY by now. But boat repairs are common for all of us, and we may be able to catch up when its their turn for needed lay-overs.
Derek has met EVERYONE at our marina (Regatta Point), and welcomes the transient boaters that come in for the night. He keeps me updated on who's who and all the names of the dogs. We've been invited on boats for docktails and to a beautiful home overlooking a bay for a crab and oyster boil. Lou and Kim, our Deltaville besties, just walked us to the end of their pier and pulled up crab traps and oyster baskets and we were eating a dozen steamed Maryland Bluecrabs and about 25 oysters less than an hour later. Fresh and DELICIOUS! There's absolutely no pretentiousness and the hospitality is awesome around here.
The fiberglass work on our back corner is coming along slowly but well. Once the cracked fiberglass was removed, it was discovered that the previous owner had damaged the same spot, but did a cheap 'Bondo' repair. So although our stern hit the piling, it may not have caused damage if it had been repaired correctly before. We've had the chance to complete other maintenance issues, and Donna Mae has been waxed and buffed from bow to stern. My second new iPhone was recovered from under the boat in our slip by a scuba diver, and it still works perfectly after 4 days underwater!!! Thank you Lifeproof http://www.lifeproof.com. Repairs are estimated to be completed on June 16th and we'll be more than ready to hit the water.
A mama mallard and her 7 ducklings have adopted us. I can now feed them out of my hand. The other day, we were inside the boat and didn't see that she had swam up with her babies for a snack. Well, she promptly flew onto the boat and was quacking at us through the glass door till we brought out some food. Who is training who, I wonder. Since Derek still refuses to get me a puppy or kitty for the trip…ducks will have to do.
Days are very lazy. We nap when we want. We read ALOT. Watch TV in the Captain's Lounge. And lounge by the pool when it's sunny. We use the courtesy car when we need to buy something. We still hardly remember what day it is. Derek and I are enjoying each other immensely. We celebrated our 34th anniversary on June 4th. The consensus was we'd do it all over again, and that we couldn't image doing this adventure with anyone else.
A shout out to my boy, Connor, who turned 26 yesterday. Miss not being with my babies on their b-days. Connor starts a new job at JB Hunt on Monday, so prayers for his new adventure as well.
Love and kisses to all.
The Captain & the Admiral.
​
PS…good books we've read along our way and would highly recommend for summer reading:
Chesapeake, James Michener
Signature of All Things
The Reader
Station Eleven
The Tiger's Wife
Cutting for Stone
Jonathan Strange & Mr Norrell
Boomsday
---
Yes, we're still alive! I'm late in writing this blog because I haven't had several hours in a row to sit down at the computer. So…it will be a long one! But I promise, NOT boring!

After leaving the lovely Regatta Pointe Marina in Deltaville, VA, we decided to spend a few days on the hook (anchored) to give our Capital One card a little break and to test the repair of the belt tensioner bolt. The first night out was a pleasant little anchorage on the Rappahannock River called Yopps Cove. Very pleasant, no incidences. Belt held in place.
Then we moved north on the Potomac headed towards DC and stopped at our next anchorage which was called 'The Glebe' on the Coan River. It was written up as a well-sheltered, quiet, very scenic spot with good holding for the anchor and it's own little beach to dinghy to. When we arrived it was just as they said. No other boats were anchored there, so we had the whole cove to ourselves. And just in case you think that 'the Glebe' is a weird name, it was situated between Bundick and Killneck Creeks!]

We set our anchor and hopped into the now-working dinghy and went to check out the little deserted beach on one of the shores. We stepped off the dinghy in about 8 inches of water and immediately our feet sunk down into warm oozing mud up to our ankles. It had fooled us because it was the color of sand! The island was full of biting flies, so we only spent enough time to take a couple of pictures of Ginger while she played. I cursed the flies. Derek barely avoided stepping on a large stingray on the way back to the dinghy, so he kept telling me to shuffle my feet as I walked. Have you ever tried to shuffle your feet in slimy oozing mud???

We came back to the boat and were enjoying the sunset with soft music, cocktails and hydrocortisone ointment when it became obvious that a thunderstorm would be coming through that evening. What fun, we thought, to ride out our first storm while on anchor in our well-protected cove with promised good holding and shelter from high waves and strong currents. Make me another drink, love, and come sit by me to watch the black clouds roll in. Then the 41-knot winds started and the lighting crackled every few seconds around us. We promptly moved our storm-watch party from the covered cockpit deck to inside the boat. Our 'little' storm was lasting much longer than anticipated. About an hour into it, when all was dark except for the lightning, I happened to glance at our AnchorWatch app on the iPad and saw that we were no longer inside our rode circle radius….in fact, no where NEAR where we dropped anchor. I yelled 'SHIT, Derek, START THE ENGINES NOW', and as we raced out the door we could see that we were about 20 yards from the rock shore that had once been in the far distance, and the high wind was narrowing that number quickly. Derek revved the engines forward in the flybridge while I brought up the anchor with the windlass at the bow…after several drinks….in the pouring rain…in the high wind….with the big waves….with the lighting crackling all around me…and nothing to hold onto but the metal rail. Oh yeah, this is fun.

We survived, but our storm left us with more than one memory. In our haste to move the boat and re-anchor, we did not bring in all the lines. Specifically the rope to pull up the dinghy davits that hangs in the water when the dinghy isn't loaded on the swim platform. Around the propellor it went when we started the engines to get away from the shore. We did get to meet the wonderful gentleman who works for BoatUS towing though. And we got to meet the wonderful people at the nearest marina where we where towed who hauled the boat out of the water to remove the rope. So much for giving our Capital One card a break. But, it could have been a lot worse…no prop damage. And we took the opportunity to replace a couple of zincs that had been eaten away by all the electrical current around the marinas.

From there we decided we needed to catch our breath and to stay at a marina the next night and made our way to Colonial Beach, VA. We stayed at Boathouse Marina near Winkedoodle Point (I cannot make these names up!). The marina had been hit by a small tornado 2 weeks prior, so the boathouse where everyone gathered, and was the marina's namesake, was no longer there. But it's roof was there….on top of several other boats!. The staff was AWESOME, and the owner, Bill Bowman, made us feel right at home amongst the remodelers and reorganization. He gave us keys to his golf cart to go to dinner or run errands. Colonial Beach is a tiny peninsula with old houses with picket fences and looks like it's right out of the 50's, and there are as many golf carts as cars on the road. Bill has a slow way of speaking with a northeastern accent and is known far and wide in the Chesapeake area. The town was too small for any chain restaurants, just a few mom-and-pop joints, so we ended up at the Lighthouse Restaurant. The billboard out front of the rundown boxed building announced Thai and French! Well isn't it a coincidence that's just what we were in the mood for!!! We were expecting ramen and 'french' fries, but got one of the best gourmet meals so far on our trip. You just never know what you'll find. Derek topped off the evening by filling the golf cart up with ice and beer at a convenience store and drove home like Mario Andretti…never slowing down for the turns. I felt like I was back on Donna Mae's bow in a thunderstorm. But this time I was laughing.

Finally we made it to Washington DC. We stayed at Gangplank Marina which was walking distance to all the sites and monuments. Most of the slips were filled with house boats, most without engines. Compared to rent and mortgage costs, they have a great little house for much lower rates. All are decorated with Christmas lights at night. Derek walked the docks and met winner of last years decoration and he gave him the free ticket to Mt. Vernon he won as the prize. You gotta love the boating community! Our neighbor, Cathy, had lived there for 7 years and Tyrion, her 6-month old English Bulldog, became good friends. There was also a black cat named Onyx on the other boat next to us that would come aboard our boat any time he chose! Cathy treated us to T-bone steaks sautéed in blackberry brandy our last night there.

But the BEST part of DC was seeing our son, Connor, and his wonderful girlfriend, Emily. They flew in to meet us for their vacation. Such a treat. We walked miles and miles each day visiting the Smithsonian museums and the many monuments around the Washington Mall area. We even mastered the Metro subway system. The kids spent the last night we were there on the boat (yes, in the Hell Hole where Derek's dad slept), and we planned to cruise down to Mt Vernon (George Washington's home) with them before we parted ways.

We all headed out the next day on a bright sunny morning. By the time we got to Mt Vernon (1 1/2 hours away), it began storming AGAIN! The water around the dock at Mt Vernon was like a washing machine. The boat kept slamming up against the pilings no matter how much we tried to secure it. So, Derek and I decided to abandon the Mt Vernon tour and say our goodbyes to Connor and Emily, then head out away from the crashing waves against the dock. Best laid plans. We almost made it until the wind blew the stern of Donna Mae against the last steel piling and smashed the fiberglass on our starboard stern….bad. But it was quite the show for all the tourists standing on the dock. I'm sure the parents didn't appreciate the 'new words' the kiddies learned coming out of my mouth. The good news is we didn't hit the boat coming into the dock with our bow. But it was avoiding the boat coming in that kept Derek too close to the dock when the gale blew us toward it. Looking for positives once back in the channel of the Potomac, Derek and I agreed that at least we weren't hurt and the boat was still sea-worthy. That was when the engine alarm went off. The engine belt had broke and the engine was overheating. We had to shut it down. Now we were running on one engine. There were no words left to come out of my mouth. I popped a beer. Derek actually had a spare belt so we dropped anchor while he put another belt on and cursed at the bolt that was supposed to fix this issue when we were in Deltaville the week prior. Glad that another visit from BoatUS towing was averted.

We stopped back at Boathouse Marina on our way back to the Chesapeake. The owner, Bill Bowman, had a huge potluck dinner with all the boaters on his 70-foot yacht the night we were there, so we didn't get to have another French/Thai meal! But the company and atmosphere were badly needed and appreciated on Bill's boat. We left early the next morning for the 91-mile trip back to Deltaville, passing " The Glebe" on the way south. Derek was given the name Tobi Gillis, in Deltaville who is supposed to be the best fiberglass repairman on the Chesapeake

We're now back in Deltaville to repair the fiberglass. Tobi looked over there damage and reassured us that it is repairable but will take about 3 weeks due to other projects and the length of time to cure the resins between layers. Derek is also going to change the oil and impellers and get a mechanic to fix a slow coolant leak on the generator and that damn belt tensioning bolt on the starboard engine once and for all with a helicoil.
At least this marina is the one with the pool and a free courtesy car. I might make a trip back to Arkansas while the boat is here. We'll see what our Capital One balance is first!…and the cost of the repairs. Derek is in good spirits and continues to walk the docks talking with everyone he meets. He organized a happy hour on the veranda last night and met a fellow guitarist and brought his as well. The 70-year old he played along with learned to play the guitar from Bob Dylan, Pete Seeger and Peter, Paul and Mary back in the 60's!
I am learning to roll with the punches. Adventures are kinda like that, I guess.

---
It finally happened…as everyone said it would. I hit the wall and said enough is enough of this craziness. This occurred after several days of wind, rain, cold weather, bad marinas, bad food, and Derek's opinions (haha). Plus, being away from my boys on Mothers' Day and missing all my friends, and (can you believe it) missing work, made matters worse. Well, the sun came out, the wind died down, and we had several glorious days on the water. I'm back in 100%.

Coinjock, NC (henceforth to be known as Jockstrap by me) was a disappointment. That 32oz piece of meat they're so famous for was 'bleh'. It was cold and rainy.

Next stop was Atlantic Yacht Basin Marina in Chesapeake, NC (but not in the Chesapeake Bay yet). Don't let the fancy name fool you, it's in the middle of nowhere too. There was only one spot left to dock when we got there. This marina, like the one in Jockstrap, is really only one long dock that about 30 boats tie up to sideways alone the channel. So….it's pouring rain, wind is blowing about 25mph and Derek has to dock Donna Mae between 2 large, expensive boats. The dock hand kept saying 'I think you can fit' over the radio as we're coming in to the spot. I thought there was no way in hell it would work. Derek spins the boat around 180 degrees, revs it forward. Slams it into reverse turning hard starboard, and slides it right in!!!! There was literally only 2 feet between the boat in front of us and the one behind!!! He stepped down from the flybridge while I was securing the lines and we just looked at each other and broke out laughing. He kept rubbing his eyes saying they burned, and I said it was because he probably didn't blink for the past 3 minutes while docking! Another thing worth noting is that a huge barge hit a boat tied to the same dock at 2 AM and totaled it. The smashed boat belongs to a woman doing the loop all by herself. The boaters really pulled together for her. She's buying another boat with the insurance money and continuing on. Lady has guts.

We passed on the hose (nicknamed Waldhose, as in 'where's Waldo') that we were chaperoning to another Looper. They where headed to Annapolis where Waldhose's owners anxiously awaited. All Loopers who escorted this hose are to sign it and take a picture with it. Waldhose is famous, and we're now on many Looper's blogs.

The rain finally subsided and we headed to Chesapeake Bay after a rough night at anchor. Norfolk, VA was a huge city opening up out of the boonies we'd been traveling through. We saw all sorts of Navy ships, barges and cool bridges that slide up instead of opening. We passed the buoy that signaled mile zero on the ICW (we started at mile 1065 in Lauderdale). We were in big water now. The weather was perfect.

We spent a couple nights in Yorktown, VA so that we could take a taxi over to Williamsburg. The marina was on a little beach and our neighbor was a cruise ship that blocked the wind….until it left at 2:30 AM. Then a 'noreaster' blew in and the waves were crashing OVER the dock and slamming into our transom. I felt like I was sleeping in a washing machine! At one point I just said to God, 'If we sink here, so be it, but I'm NOT going out there to check the lines again'!

Williamsburg was fun. We were there on May 15th which is the anniversary of Virginia declaring it's independence from England. We stood in the room that the decision was made and where Virginia wrote it's own declaration of independence.

We are now in Deltaville, VA. It's the boat capital of the Chesapeake Bay and a great place to do some repairs. Every other building is a boat maintenance/repair shop. The dinghy is now running, but our alternator still needs a little work. I was the first person this season to get in their pool. Yes….it was freezing, but nothing a few beers couldn't overcome. Derek and I spent a whole day relaxing by it. Virginia is beautiful…we could live here!

We now see people we know in every port. Five o'clock is docktail hour and we imbibe with each other before settling in for the night. We've met great people, but no one compares to our friends at home. Love you all!
---
Hello again! We are over 1000 miles into our voyage so far! At an average of 8-10mph…that's a lot of hours and a lot of water in our wake. We should be into Virginia soon and the Chesapeake Bay soon after that. We've only felt like poking each other's eyes out a few days out of the past 67, so we'll call that a win! However, we've had 2 casualties along the way. My phone got soaked in a dinghy ride to the Frenchie's boat about a week ago (sorry if I haven't answered phone calls or messages), and my expensive Nikon camera fell off the table and broke while traversing a big wake. Thank goodness for Amazon's 2-day delivery to ports of call this week for replacements.

Week 9 began in Beaufort, NC. This town is pronounced Bō-fort, as opposed to Beaufort, SC which is pronounce Bew-furt. It is VERY important not to say the wrong pronunciation when in either town or your drinks will be watered down! Our first day there was filled with rain, wind, and more rain while docked in our slip. So Derek and I pulled out the sofa bed, piled on pillows and blankets, and watched movies all day on the DVR. It felt great not doing a darn thing all day except for one or two adjustments of the lines when the wind changed direction and bailing out the dinghy.

Our 2nd day in Beaufort was sunny and cool…perfect for being outdoors and near the water. The town has a great tradition each year that we were able to see while there. It's the International Boat Building Competition. There were 15 teams, ranging from girl scout troops to professional boat builders. Everyone was given the same blueprints for the boat in advance and then all the wood the teams needed to build them at the time of the competition. At the sound of the gun, they had FOUR hours to build their boat. Of course the professionals (teams of only two builders) finished under 2 hours, but all teams had completed their boats by time's end, even the girl scout troop with 7 on the team. The professionals were trying to beat the world record of 1 hr 20 minutes and one team came close at 1 hr 40 minutes!!!! THEN….they had to race their boat in the Beaufort Channel. This part was hilarious. Half the boats started taking on water as soon as they were placed in the channel (they were wood boats with only nails and caulk holding them together). The teams had to row their boat about 150 feet out, turn around, head back and touch the dock, then switch rowers and do it again. About 100 people were there cheering on the teams. What made it even more interesting is that the wind was blowing about 25 mph and the current was fast. The racing boats were being blown sideways and into the expensive big boats that lined the race area. So these tiny wooden boats, filling with water, and being pushed back with boat hooks by the big boat owners, had their work cut out for them….especially a particular racer who had to be over 320 libs with a leaky boat and apparently NO rowing skills! That night Derek and I celebrated the momentous occasion by drinking several Shipwrecks (tequila, rum, coconut, pineapple and pomegranate) at the dock bar. We toasted Blackbeard, who's boat sunk off Beaufort's coast. The townsfolk were awesome. If you were standing around the bar, they would invite you to sit at their table in order to relax. Another cool fact is that an uninhabited island right across from the marina is home to wild horses. We sighted a few while there.

After leaving Beaufort, our route departed with the Frenchies, but we'll meet up again in Norfolk, VA. Next stop was New Bern, NC at the tip of the Neuse River. This was a pristine little burb with TONS of Revolutionary War and Civil War history. We rode our bikes all through town and treated ourselves to a trolley tour as well. This is another of the few cities that Derek and both said, 'I could live here'. It was immaculate and almost all the homes were built in the 17th century and maintained beautifully. There were bear statues painted in different costumes on every block (Bern means bear). Derek and I had our first cheeseburger that was wrapped in pizza dough and deep fried….YUM! This was also the spot where Pepsi-Cola was invented in the town pharmacy. I think we all know what they put in the recipe that made it so refreshing ;)

We spent last night in a marina near Belhaven. Not much to say about this town except that all their recommended restaurants were closed on Tuesdays. Of course, we were there on a Tuesday. Worth mentioning….we met another Looper docked here and we were given a hose to chaperone north. Apparently a fellow Looper left it at a dock in Jekyll Island, GA and 'needs' it brought back to him in Annapolis!!!! This hose has passed many Looper hands on it's way north. Why this person cannot just buy another $20 hose is beyond me, but since we are headed that way we obliged. This is a testament of how far Loopers (and boaters in general) will go to help out other transient mariners. We've had offers for rides to the store, cocktails and traveling advice EVERYWHERE we go.Hospitality and charity is still alive and well in our heartland. South Florida made me doubt that a little!

We are now headed to Coinjock, NC after we cross Abermarle Sound. This little stretch can be very dangerous during any wind or weather, but today it's sunny with winds only 3 mph. The Lord is with us!!! Coinjock is a marina in the middle of NOWHERE, but is known to have the best steaks anywhere on the loop. Might just have me a 32oz bone-in ribeye that they're famous for. The restaurant and marina are the only thing in town.

Only thing needing repair this week is the dinghy's motor (knock on wood). With all the rain in Beaufort, some must have got in our gas can and is now in the motor. Or….it's REALLY broken and we'll need to get a mechanic. Derek gets to row the dinghy until then!

Miss you all. Much love from the Captain and Admiral.
---
So we have now been living 2 months on a boat. Sometimes it seems like it's gone by so fast, and other times it seems like years! What is it like to move from room to room in a house without bumping into doorways and each other….I can't remember!

On our last day in Charleston, we moved to the Charleston City marina (fancy) since we had won a raffle for a free night there at the Trawler Fest. Our slip was on the MegaDock with all the snooty mega yacht owners. We looked like a little flea docked next to the BIG DOGS. In fact…right in front of us was docked a 210-foot schooner that was for sale for a mere $79,000,000 (originally $115,000,000). Apparently, the owner, Jim Walker, (founder of Silicon Graphics, NetScape, and WebMD) has 3 other yachts of the same caliber. There were mega bucks on the Mega Dock. Every day as people walked to and from their boats, Derek and I would say 'Good morning' or 'How ya doing?' Apparently they were too dignified to answer. Thank GOODNESS the rest of the places we've stayed have been good ole broke folks like us who are much more friendly!!!
From Charleston we moved on to Georgetown, SC. We anchored in front of this quaint boating town and walked the streets after taking the dinghy to shore. There were rice and a maritime museums. Most of the houses near the bay were from the late 1800's but a few from the 1700's We had the best grouper sandwich ever at a great rustic restaurant called Big Tuna. In fact, we went back there again for dinner with our new friends from France.

We have an anchor alarm app that goes off when the boat floats out of the anchor rode range. Well, the alarm kept going off overnight. Derek in his great wisdom kept making our range 'circle' larger on the app instead of resetting the anchor! Luckily, we didn't drift too far onto shore, but I told him his technique kinda defeats the purpose of the software! We each have our own ways of coping. For the record, he says that anchors in mud generally "slide" a little in the wind :)

Our next stop was to the Barefoot Landing Marina in North Myrtle Beach. The marina was part of a big condo complex, so I got to lounge at their HUGE resort pool while staying there. We've been constantly surrounded by water since March 1st, but this is the first time I could submerge my whole body in clean, clear water while taking a swim. It was heavenly. Poor Derek was sweating on the boat installing our new Garmin navigation chart plotter while I relaxed in luxury. But he's happy to have reliable navigation since our Furono Chart Plotter did not have any maps loaded!

From Myrtle Beach we headed for Bald Head Island which is the tip of Cape Fear in North Carolina. As soon as we crossed the NC state line, the view was entirely different. Marshes gave way to big trees lining the ICW. Oh how I missed trees! The waterway is deeper, but we now have to look out for rocks instead of shallow water. Currents are still tough. The tea-colored water in SC is now much cleaner and blue.
After crossing a VERY rough sound at Cape Fear (the name is quite appropriate), we pulled into a protected marina that is on Bald Head Island. WHAT A FIND!!! The island is surrounded by the ocean and you can only get there by boat. The wide white-sand beaches went on forever without a person in sight. We rode bikes throughout the interior island trails that were shaded from canopies of trees. Our french friends actually saw a 'gator crossing one of these trails on their solo bike ride. The whole island is traversed by bikes and golf carts. The only autos are driven by workmen who have their trucks brought over by ferry.

There were tons of gulls standing on the very tip of Cape Fear on the beach and I just had to run through them! It is quite an experience to have thousands gulls flying around my head and screaming at me as I interrupted their solitude. I felt like a kid again. The ocean surrounded this tip for 300-degrees around and it was like standing in the middle of the ocean.

We run into other Loopers we have met earlier as we stop at marinas. It's quite the little club of folks. Derek has already logged over 100 hrs driving the boat. His expertise docking and managing the crazy waves and currents in the ocean inlets is now impressive! I think he might have been born to do this! We are too tan. I am having to apply sunscreen now just to keep my skin from becoming like leather. Derek just keeps looking more and more like a Mexican!
​
​We can't believe the pictures of the flooding in Arkansas. We pray that everyone stays safe. Hard to imagine since when we left, the lake was super low. We miss everyone. We miss Church. We especially miss our boys and dog!
---
​Wow…we are MOVING along at a fast pace! We left Brunswick after Easter and headed towards Savannah. We met a wonderful couple, Eduard and Sabine, from France who had their boat shipped to the U.S. to begin the Loop in Ft. Lauderdale like us. We have met up with each other in Brunswick, Kilkenny, Savannah, Beaufort and Charleston. Eduard and Derek are kindred spirits and each time we're together our sides hurt from so much laughter. Who knew that there was a 'Derek' in Cannes, France going by the name of Eduard! The name of their boat is Darak so it was meant to be! The first night we both anchored together, they came to our boat by dinghy with lamb chops, potatoes provençal, and lots of French wine. We played French dinner music on Pandora and it seemed we had known each other all our lives.

A quick funny story…..at Savannah we took a courtesy car with our French friends into the city for 4 hours. Eduard had left his bicycles chained to the dock pilings next to his boat. Well in the 'low country', tides change the water level 8-9 feet so all the docks are floating up and down around these pilings, which are fixed. I have a picture of these pilings attached. While we were in Savannah, the tide went out, the docks dropped about 7 feet, and the chained bicycles were now chained to the piling way over our heads! Eduard came back to see his bikes beyond reach and was sure that someone was pulling a prank on him. I have learned new French curse words! I wish I had a picture of it, but unfortunately I took a whole days worth of pictures without my SD card in the camera!!!!

Moving through the ICW in Georgia and South Carolina can be a daunting experience. It is all marshland with winding and VERY shallow areas (often only 4-5 feet deep). You can see for miles and rarely encounter other boats. We often feel we have the world to ourselves, and with the heat and humidity, being fully clothed is optional!!!! Dolphins, sea gulls and pelicans are so abundant that we have stopped pointing them out. We will be on very narrow water paths then they suddenly open up into huge 'sounds' that are entrances to the Atlantic Ocean. Some sounds get so close to the ocean that the waves make us grab hold so not to be tossed about the boat. Then just as quickly we're on a tiny little water path cut out from the weeds again. The currents are crazy and make docking difficult, but when they're going in our direction we can cruise at 10-11 knots with very little power.

We are now in Charleston, SC. It is a BEAUTIFUL city! Besides St. Augustine, it is our second favorite stop so far. The history is so rich. We saw the dungeon where pirates, and then later, the early patriots were held as prisoners. We walked on the same floors as George Washington. We have eaten wonderful meals at restaurants written up in Southern Living. We see hundreds of cemeteries where the tombstones are so old that the writing on them has been worn away to nothing. And this morning we encountered a deluge of rain…3 inches/hour. Donna Mae finally got all the salt washed off places that we couldn't reach.

Surprisingly, the boat is feeling much bigger to us. We have either gotten used to small spaces or the expanse of 'openness' around us has more than compensated. We also feel much more comfortable on the boat versus on land! The land isn't buoyant under our feet. I don't know if I'll be able to sleep without being rocked anymore.

We still encounter boat issues, but have realized that this is part of the experience. EVERYONE we meet has recent stories of what needed to be repaired or replaced on their boats, no matter the size, age or price of the boat. Derek has become quite the mechanic. This week's issue is a low coolant pressure sensor in the generator. So we have had to stay at marinas instead of 'on the hook' since we can't generate power to drive the A/C and need shore power. This is much more expensive ($60 to $100/night) so we're keeping our souvenir spending to a minimum, and I
Enjoy the pics….there are lots! So far there are no regrets on this crazy ride. Love you all.
---
We now understand why everyone loves the Loop. We spent 4 days at the MTOA Southern Rendezvous in St. Augustine. This organization is for boaters who own trawlers and they meet twice a year in various ports. It's 4 days of meeting with old and new friends, eating, drinking and hearing several speakers on various boating issues. There were about 50-60 people in attendance that stayed at St. Augustine Municipal Marina. What a HOOT! Derek and I were the 'babies', both in age and experience. We were taken under everyone's wings and met some wonderful people. I got my first turtle (their mascot) pin for being selected to pass out the award pins on the last night. I was officially 'a pin chick'. George, a sassy gentleman in his late 70's leading the awards committee, did the choosing of the pin chicks and said he only wanted good-looking women for the honor of passing out the pins. I'm sure I was chosen because I was a good 15-20 years younger than the other women there!
God placed our slip next to a couple that will forever be our 'boating Godparents'! Ron and Mary Barringer. It seemed they had been to every port known to man and had a wealth of knowledge to share with us. As if scripted for a book, Ron was white haired with a white beard and looked like the model for Gorton's Fishsticks. He had a 'crusty' sense of humor, so we got along swimmingly. Mary was genteel and had blue eyes that always sparkled. We spent the last night together in a little bar called Stogies where you get a free cigar with the first beer. It's non-touristy local dive that had live music and a fire pit to sit around. Everyone we'd meet became instant friends.
For those who have never been to St. Augustine…GO! It has thousands of shops and restaurants all lined on narrow winding streets. It reminded me of Italy, but with Spanish architecture. There is TONS of history and a fort to explore. Lots of ghost tours and historical sites. We could have stayed a month and not seen everything. If you go…stay in one of the many bed & breakfasts in the old historic part of town. You can walk to everything and it's very romantic but fun. You almost feel like you're in Europe. We want to move there!
The boat had a few hiccups on the way there. We had to replace both engine batteries and rebuild our port engine alternator. Our port tachometers still don't work, but we need to find a bigger marina with a larger marine supply to replace them. By the time we're done with the Loop, someone will be getting a practically new boat!!!
With Florida in our rear view mirror, the landscape became very marshy. The ICW winds and turns to follow the deeper depths….which many times are only 5-6 feet deep! Very few bridges and very few other boaters to deal with now. But we found a marina called Hidden Harbor tucked away in the middle of no where to spend Easter dinner with 14 other boaters. So I have to close now to make some deviled eggs to contribute!
​The Blog is still down. Derek is trying to decide if we should switch to another blog site. Stupid computers!

---
Donna Mae finally heads north. It was strange leaving Ft. Lauderdale after being there 5 weeks. Kinda felt like home and we had a routine every day. Now it was time for the great unknown. We anchored the first night in Lake Worth in Palm Beach. As the anchor went down, I prayed that God would give it a good hold because the wind was strong and the waves rough. We woke up in the same spot we were the night before so we were happy that the hold was firm. HOWEVER, we had a hell of a time trying to pull the anchor up. We got to the point where we thought we might have to cut the line to free us up. Derek said that when I prayed for a good hold, the Lord must have put His thumb on the anchor and pushed it into the bottom about 15 feet deep!!!! So I prayed again that He might loosen the anchor's grip and sure enough…up it came.
We docked in Vero Beach City Marina on the 4th. The docking was not one of our better tries! In fact it was downright ugly! We were only gonna spend one night there but Mother Nature decided to send a tornado and high winds for the next 3 days. We met 3 other couples there who were also doing the Loop. Derek's brother and sis-in-law drove from Orlando to see us with their kids. It was the highlight of our week. There were also lots of dolphins each day that would play behind our slip. On the 8th the weather cleared up (but became downright cold) so we headed out again and anchored on Florida's Space Coast, right next to NASA. If there would have been a rocket launch, we would have had ringside seats.
Since leaving Ft Lauderdale we have new issues with the boat. The engine belts are loose and rubbing against something causing belt dust. Our batteries are not re-charging like they should, and we lost our tachometer gauge for the port engine. Also the carbon monoxide detectors start churping each time we anchor in the middle of the night due to low battery. All signs are leading to needing a new alternator. Also the same port engine is running a little hot. So we will also have a chance to meet repairmen in St. Augustine! We are doing our best to boost the Florida economy!
Speaking of St. Augustine…we finally arrived for the Marine Trawler Owner Association's Southern Rendezvous a day late. We put in 100 miles on the 9th to get here. That may not seem like much, but our boat averages about 9-10 mph! We saw lots of wildlife on the way…dolphins in our wake, manatees mating, flamingos flying overhead, and tons of other marine birds. But the most exciting part was when we ran aground for a few seconds. There is no sound worse than the sound of your boat scraping along the bottom!!! We were right on course, but shoaling must have occurred at this particular spot. After kicking up some mud, Donna Mae made her way into deeper waters. Going through Georgia is gonna be a bitch since most places on the ICW are only 4-5 feet deep. I better grease up the bottom.
Our blog sight is still down due to hosting upgrades, so I'll post this on Facebook again. But please bookmark our blog at feelingloopy.net and HOPEFULLY we will be able to post there soon.
I'll end this blog with some sayings that we never thought would cross our lips before this journey:
• Derek: "There's seaweed in our air conditioner"
• Me: "Can you bring me the flour and a can of tomatoes from the bedroom closet"
• Me: "Please turn on the head so I can flush"
• Derek: "Can you fit in this hole and hold this wrench on that bolt"
• Me: "This boat is covered with salt. I can lick it clean"
• Both: (in the middle of the night) "What the hell is that noise"
• But the winner goes to the following…
• Derek: "I'm getting barnacles on my dinghy"!!!!
Love to all,
The Captain and the Admiral
---
Getting REAL close to starting the Loop. We're aiming for April 4th! Just waiting on 2 things that must get done before the official journey begins. We need a davit system installed on the swim platform to transport the dinghy, and we have to get our isinglass (clear, plastic vinyl windows) back on the flybridge. We had great isinglass when we bought the boat, but a workman ruined them when he replaced the bimini top. That was one of our 1-step-forward, 2-steps-back repairs. All other systems are a GO! We are antsy to get going, but a little nervous to soon be underway. However, we did get in some practicing for anchoring, attaching to mooring balls, and docking. We did GREAT! We even have bluetooth communication head phones now and I have docking gloves for managing the ropes! They call the headsets 'marriage savers' so we're not screaming at the top of our lungs at each other from the back to the front of the boat, and over noisy engines while docking….but I can still transmit curses at Derek with my inside voice with the microhone! Oh…and I now am the VHF radio queen when calling the bridge tenders for an opening so the boat can pass under. I get a little passive-agressive joy in knowing that all the traffic going over the bridge has to stop for us. 'Roger, that!!!'
We actually have noticed 'land sickness' lately!!! We may start needing dramamine…especially in small rooms…when on 'the hard' (terra firma!). We look like Stevie Wonder with our heads swaying back and forth to compensate when off the boat. We should start singing 'You are the sunshine of my life…' whenever we noticed the other one doing it! The apartment complex we dock at actually fixed their enclosed shower room in their building so we could use it instead of the boat shower. Last night when I used it, I closed my eyes and tilted my head back to rinse out the shampoo and almost toppled over! Gonna have to get me a life alert button for when I'm on shore.
Speaking of dramamine…..We took the boat 3 miles off the coast to dump our poopy pot. I was doing great until we stopped the boat in 3-foot waves. A trawler boat floats like a cork on top of the water. After 15 minutes of extreme rocking and rollin, we anchored to do some snorkeling (mind you, not close to where the poop was dumped). I went from side-to-side motion on the boat to up-and-down motion in the ocean. Ughhhhh, just thinking about it now makes me queasy. But I didn't throw up because I didn't want to chum-up the ocean around us where sharks possibly are. My sister had already made me take off all my jewelry so the barracuda wouldn't think they were lures and attack us. Don't let the smile on my face in the picture of me below in the ocean fool you. New rule on the boat is NEVER stop while at sea…forward motion ONLY. I'm glad we're spending almost all of our time on the Intracoastal waterway that is just 'choppy' at worst and avoiding the waves.
We've made some great friends with our apartment neighbors…or at least the women. I'm sure it has nothing to do with Derek's charm! We had a couple ladies on board for some wine and laughter a few nights ago. They are all young enough to be our kids! How are these young'uns able to afford $2400/mo rent for a one-bedroom????? It's a mystery, but they promise they'll be following our blog. We will miss their pretty faces and sweet dogs. Another neighbor named Walter gave us 2 tickets to the Palm Beach International Boat Show. THAT was a humbling experience, but so heartwarming to see so many old men with their gorgeous, young, and shapely daughters (sometimes granddaughters) spending time together there ;) We did find our next boat at the show, and we'll be setting up a GoFundMe page to cover the 1.5 million dollar price tag soon! Oh….and that price was for one of the smaller boats there (49 feet). The larger yachts were in the tens to hundreds of millions range. BUT…they did sleep 16-24 people….and I could fill those spots easily with ya'll! If each of you sends a mere $1 million, we'll be set.
We're getting tanner, and stronger. I can zip up the almost-vertical steps to the flybridge without having to stop!!!! Every day we ache all over and every night we collapse into bed. A boat will let you know exactly how out of shape you are many times a day. I wake up staring at the sky through the hatch over our bed. As the boat slides back and forth in the slip, it makes the clouds look like they're racing by and then stop dead in their tracks as the boat moves with, then against, the direction of their path. It's awesome to spend time noticing the little things in life like that. Of course, Derek's already put 3 hours into his day before I wake up and lounge in bed staring at the clouds. Love that man!!!!
Enjoy the new pics. Ya'll start planning your visits!!!!
Miss everyone.
The Captain and Admiral

PS….Liz Cox, we are now officially addicted to Jelly Belly's and need you to set us up with an addiction treatment plan when we return next year. We have already ordered a 'jug' of 1000 jelly beans (4 lbs) from amazon that were delivered last week. We blame your nefarious 'peer pressure' and introduction to those wicked little beans.

---
We finally got brave enough to take Donna Mae out of Port Everglades and into the open sea for a few hours. She ran perfectly! My sister Julie and Derek's dad were along for the ride. But MOST importantly, we succeeded in our first ultimate test…docking back into our slip off the intracoastal waterway WITHOUT the use of bow thrusters (those were broken at the time!). Derek backed her in like a pro and I secured all the lines without even a single bump against the pilings. I'm sure that's because no one was watching. We'll never be able to replicate it again in front of others when we come in to future marinas! We've been told that docking is quite the spectator sport at stops along the Loop. People pull out a chair, pour a drink, and laugh at scrambling attempts made by other captains and their first mates pulling in. We toasted to the fact that we might actually be able to do this without too much humiliation. We walked around with puffed-up chests saying 'Arrrrrrrr, matie' to each other for the rest of the day!
As mentioned earlier, Derek's dad came to stay on the boat with us for 4 days. He has deemed the second bedroom as 'the hell hole'! It's 2 tiny beds with about 6 inches between them and sandwiched under the steps of the main living area. He got in, but getting out of the bed proved to be a different story. He said something about having to get on all 4's and crawling backwards! So for all of you that want to join us at some time in the future, start practicing your yoga moves now. He spent the last 2 nights with us choosing to sleep on a queen blow-up mattress precariously balanced on top of our full-size futon couch. On a boat you learn to overcome space vs body mass difficulties.
We decided to leave the 'boat work' behind on Tues and eat at the famous Primanti Bros sandwich/pizza joint, then walk along Ft. Lauderdale beach. We left the broken water heater laying on the dock and agreed that the ocean water would be a sufficient substitute for a shower for the day. When getting ready to go to the beach, Derek exclaimed, 'it's been 3 days since I've put on shoes'! Life is different now.
Accomplishments this week:
We now have a working propane grill on the upper deck.
We have a new TV and digital antenna installed (although we really haven't missed watching TV).
Our new inverter gives us tons of electrical power for when we're not plugged in to shore power.
The bow thruster has been fixed since our trip to sea.
We have a shiny new anchor with 200 feet of rode and a rebuilt windlass to pull it up and down.
We now have hot water pressure and a coastguard-approved fire extinguishing system. Also, I have gone over a week with no makeup, flat iron usage or hairspray!!!!
Suntanned face is better than any base! And visors and caps are my new best friends.
I've included lots of pics this week. Enjoy!
I also want to shout out to my youngest, Trevor, who is turning 24 today. He is now 'the man of the house' in Arkansas and 'Dad' to our dog, Chance. Countless times I've said to myself 'wish he was here for this'. We miss the handsome faces of all our boys so much. Happy Birthday, Trev. Love you.


​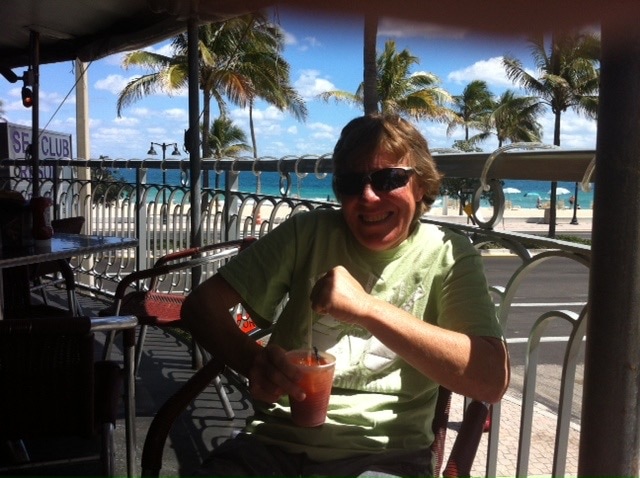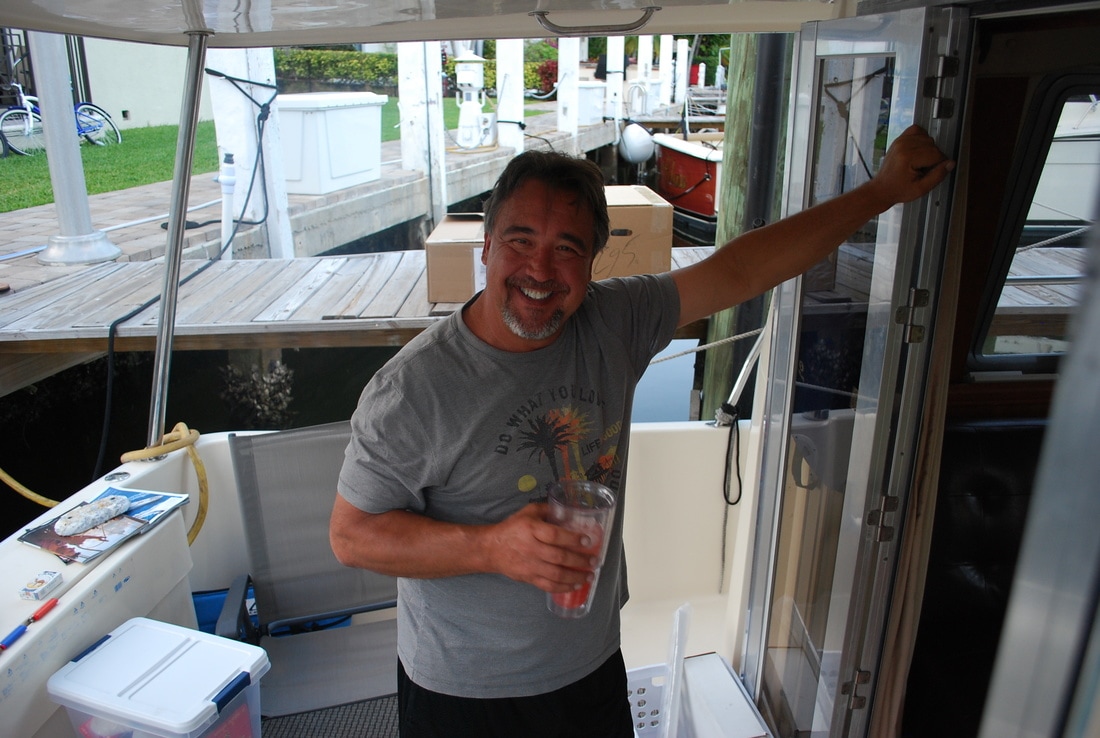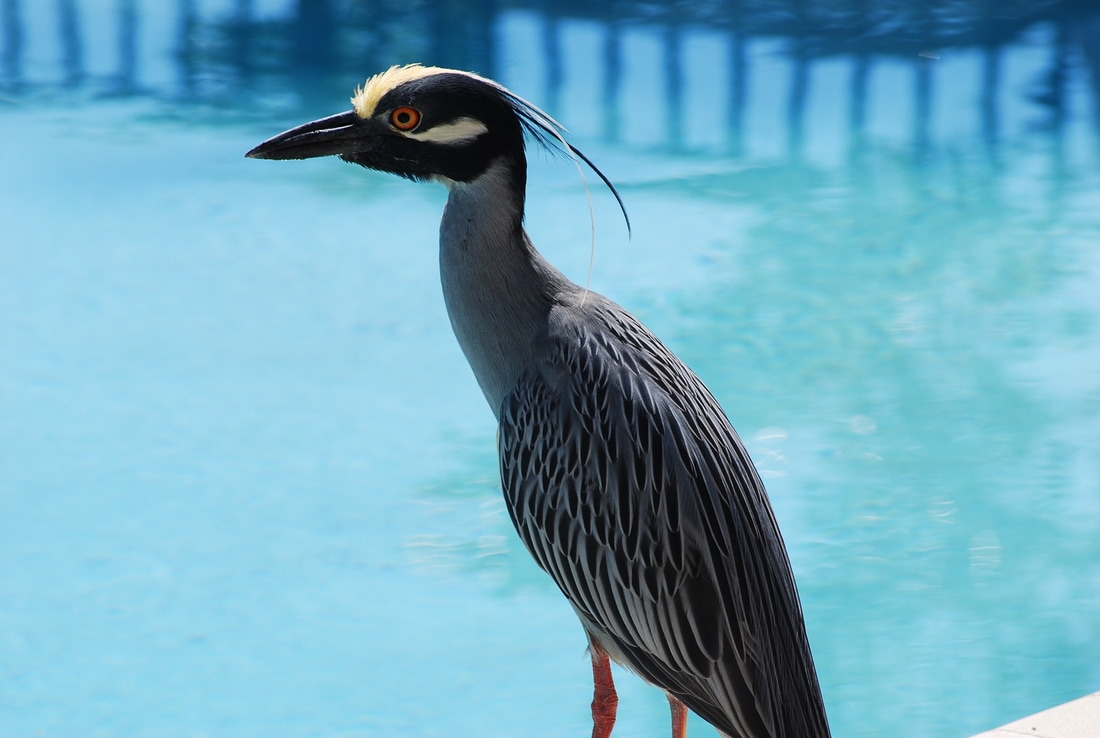 ---
​ Week 2: March 8-15
Still sitting in our slip in Lauderdale. Still having repairs and upgrades done.

Our new phrase is….'What day is it'. Freedom comes in many forms, but the most noticeable is not living by a calendar or clock. Every day feels like a Friday. We eat when we're hungry. We sleep when we're tired. We drink all the time!!!

Highlights of the week:

1. Derek flew over the handlebars on the bike! Be honest…you all knew it was bound to happen! Turned his head to see if car was behind him and ran into the curb. I wasn't with him, so I asked if anyone stopped to help him when it happened. He said he remembered to tuck and roll while in the air, did a summersault on the sidewalk, popped back up and jumped back on the bike in embarrassment, and was pedaling again within a few seconds. No time for assistance from others. I guess it was his turn to have bruises to show for his gymnastics! But Derek and bike are fine. He redeemed his manliness by replacing our shower sump pump all by himself later that day. That may not seem like a big deal, but on a boat you have to be a contortionist to fix anything.
2. I hate to keep writing about bodily excrements, but I need you all to 'feel my pain'! Today's subject is toilet paper. This stuff we have to use should be called toilet gossamer! The biggest problem with boat toilets is getting them clogged with toilet paper, so we have to use a special boat brand that you can almost see through AND only 4 squares at a time are allowed for wiping (or should I say blotting). I apologize in advance to all the restaurants I will visit and use half a roll for my business. Please understand your paper will be appreciated more than your delicious food. I have dreams about 'real' toilet paper.
3. Derek and I have been called many things in our life, but never 'gypsies'. Apparently, the full- time residents of the apartments (where our slip is) are not pleased that the management is now renting out the boat slips that are behind their building to part-timers. They have 'issues' with the 'roaming gypsies' (as we're now called) using their pool, outdoor grill and guest parking places (even though we are paying rent as they are). The rant is continuing on the apartment webmail that the residents don't know we have access to! So we're making it a point to bring a little Arkansas 'charm' to this uppity 'hood'. I clean the leaves out of the pool and give treats to their dogs. Which is funny, because all the dogs RUN to see us every time they are outside now.They'll just sit by our dock and stare at us. One dog named 'Louis' has to be pulled away from our dock by the owner because he won't go back inside when called! At least the dogs love gypsies!
4. We got a new and BIGGER dinghy. Donna Mae came with an 8-foot soft-bottom 'lifeboat' and a 4-stroke, 4hp outboard motor. So imagine Derek trying to stand in this little raft that's in the water and lifting a 70-lb motor onto the the back. Amazingly, he actually got this accomplished! Then he sits on the side of it and starts the outboard. The tiny little dinghy goes flying forward, listing to the side Derek is sitting on, and swerving uncontrollably at a FAST speed!!! It was like watching a bull rider at a rodeo. Derek immediately came back in and proclaimed 'This is NOT gonna work'. So $2400 later, we now have an 11-foot, hard bottom dinghy that rides like a dream. The old one is being donated to our 9-yr-old nephew who is the appropriate size for such a vessel.
5. The refrigerator is no longer in the middle of our living area (Salon)! What was supposed to be a 2 day installation for our DC Power Inverter/Battery Charger behind the fridge turned out to be a 7-day lesson in patience. What we have learned about south Florida is that crews will show up on time on day 1 and then mysteriously disappear for a couple days before showing up again. Quitting time is immediately after lunch. So after squeezing past the fridge every day, we can now saunter out the back door at will :)

With 11 days left before our planned departure date, here is the current punch list:

1) Install Propane storage box for grill

2) Swap out the fire system control panel and get certified by Fire Inspector.

3) Get Flybridge console covered and Isinglas replaced.

4) Replace underwater boat Zincs as needed

5) Install new Hot Water heater

6) Repair/replace Black Water float and gauge as needed.

7) Install vhf radio at helm station

8) Install dinghy davits to carry new dinghy on swim platform.

9) Install new TV

I guess I won't be putting away the checkbook any time soon.

Miss you all, but we feel your thoughts and prayers that go with us.

Much love,

The Captain and The Admiral
Our New Dinghy!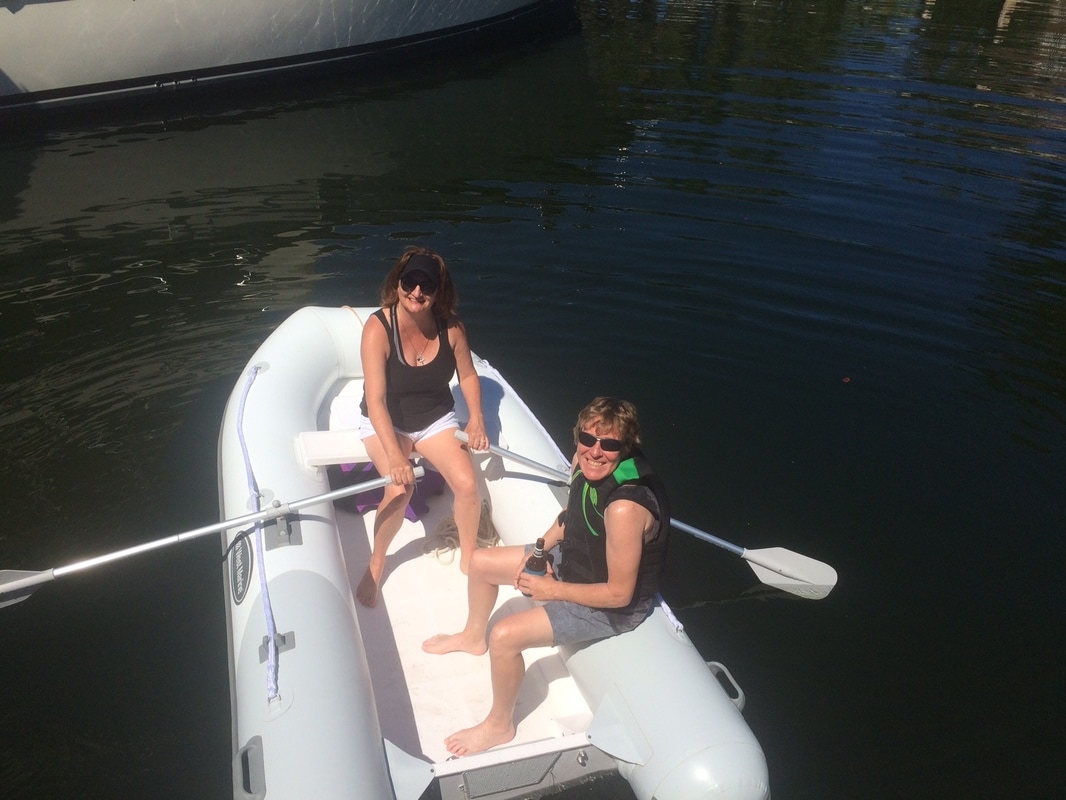 Lori Lori and her sister Julie testing the Dinghy.
---