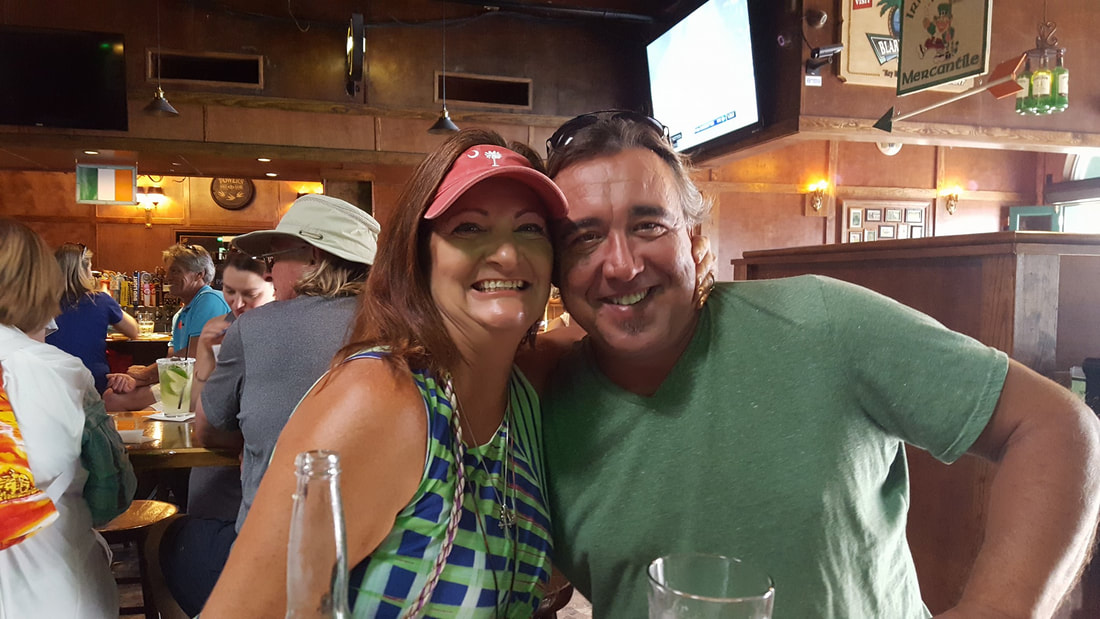 Hola, everyone! Still in Marathon, FL and living the laid-back life. This is the longest we have been at one place, and we feel we might have forgotten how to drive the boat! The weather hasn't been optimal for the Keys, but compared to what you all are going through I will not complain. Lots of HIGH-wind days and some rainy ones too….averaging low 60's to mid 70's. We now have an excellent plan for those not-so-tropical days. We lounge on the pull-out couch in our PJs all day and watch movies or read books. Sometimes we'll brush our teeth, but it's not a requirement! We have definitely learned that cleanliness, agendas and to-do lists are totally overrated. We still never know what day of the week it is.

A lot of other Loopers have now made the trek to the Keys, and we've seen many that we haven't seen in months. When the sun is shining we still meet up for docktails every night at 5:00. We were supposed to have headed towards Miami on the 15th, but the waves and wind were not cooperating. Luckily, the slip we are in became available for longer than expected. A local who normally has his boat in our spot full-time was going to return on the 15th, but he got delayed during repairs. It's actually a crazy story….on his way back from the repair, a STUPID dockhand put 60 gallons of water in his fuel tank by mistake. So back to the repair shop he goes and we get to stay here longer. We have a projected date of the 20th to head back north now.

We made a 50-mile trip to Key West with Steve and Debbie (other Loopers) last week. We took a shuttle bus, so blessedly no designated drivers were needed. We spent most of our time at a bar called Irish Kevins…a fantastic sing-a-long spot with a solo guitarist. It was one of those places where you'll get called out and made fun of if you walked to the bathroom or used your cell phone. Lots of laughs, and beers. Moved on to a restaurant to meet other Loopers docked in Key West, then ended the evening at The Bite singing Irish limericks and playing passed-around tambourines and 'music sticks'. By the time we got the last shuttle back, I felt like I had visited Dublin instead of Key West!

During a particularly nasty weather stretch, we rented a car and drove 5 1/2 hours to visit Dad again in Venice, FL. We shared some great meals and I was able to take another RARE hot bath. The highlight of the visit was going to dinner with 2 of Dad's closest friends, Rollin and Shirley Granger, who were in nearby Punta Gorda. Derek and I have know them for 38 years, but rarely get to see them except for funerals. It was such a treat to spend time with them under happy circumstances.

Being in one of the fishing capitals of the world, Derek decided to commission a charter boat with 3 other Loopers last Saturday. Since they weren't fishing for sharks, they didn't need me to 'chum up' the water for them, and I stayed home on our boat that wasn't going out in 3-4 foot seas like they were. They hit the limit for yellowtail snapper within the first couple of hours (40 of them) and then caught 2 king mackerels on the way back. We made some awesome mackerel fajitas that evening with the help of Bobby Reed who lives on a boat in the marina here. It was a feast for everyone at docktails. And we have enough fresh snapper for 6 more meals for us. ​

On a much sadder note, Derek has tentatively begun his job search this week. Our journey's end is on our mind, and we will soon have a long to-do list involving selling the boat, getting all our belongings home, reclaiming our house and going back to work. Our practice run at retirement was a huge success! But reality rears its ugly head along with a need for income. I'm hoping to find a full-time spot back at Circle of Life with my buds who can help me remember my nursing skills again. Also hoping my dog, Chance, still remembers his mama! But we're totally stoked and looking forward to see our friends again!!!! We'll be a little more tan, our hair quite a bit longer, and our livers quite a bit more shriveled, but our love for you guys is just how we left it!!!!