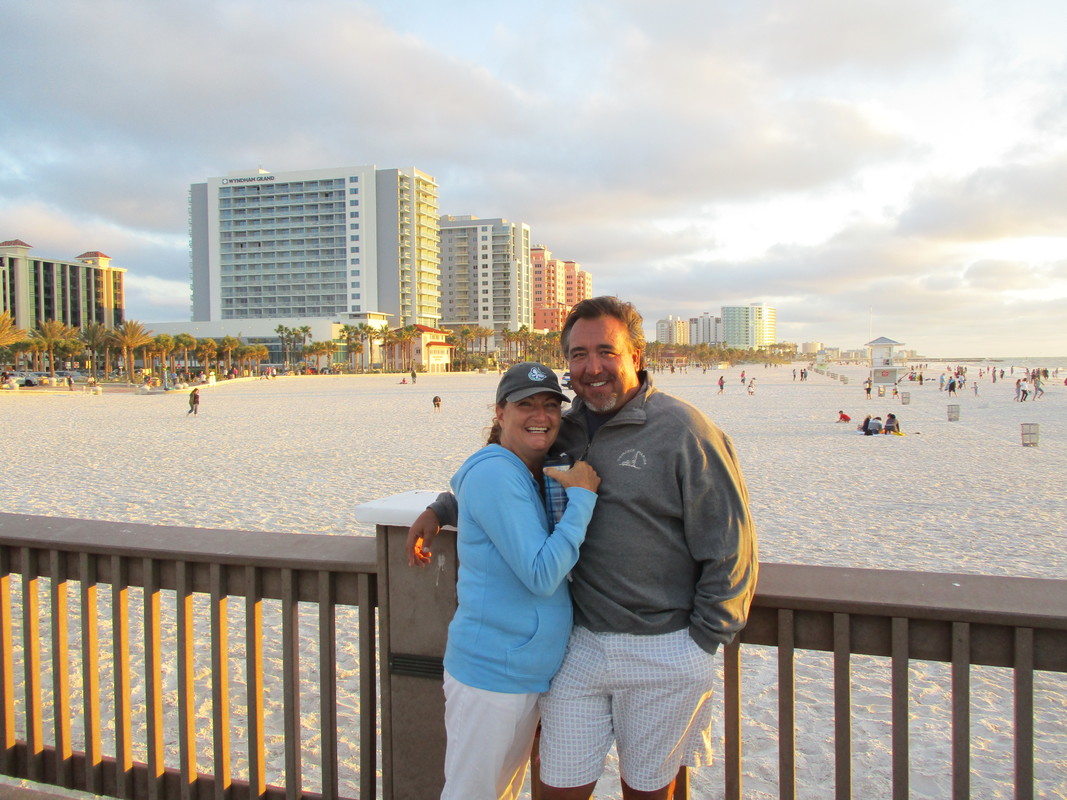 Hello from Florida! So much has happened the past two weeks, but I'll try to hit the highlights.

We have traveled along the panhandle of Florida since entering the Gulf of Mexico in Mobile on Nov 8. Gone is the monotonous river scenery and eye strain from looking out for floating logs all the time. Back to open water and a salt encrusted boat!

We had an especially awesome time in Pensacola. We anchored in a sheltered area completely surrounded by sugar-white sand dunes. We were right in front of the home of the Blue Angels. Well it just so happened that they were putting on their annual Air Show on the upcoming Friday….but we were there on a Tuesday. Bummer. However, they surprised us with a practice session for the show. It was 40 minutes of ear shattering, earth rumbling acrobatics right over our boat!!!! Best seats in the house! Derek was hootin' and hollerin' on the bow of the boat waving our big American flag. I had 40 minutes of goosebumps on top of goosebumps. And Gypsea?…….well, Gypsea disappeared under the flybridge control panel and hid somewhere in the hull of the boat until peace was resumed in her sheltered world!!!

That night we watched the sun set in amazing 'van Gogh' swirls and saw the biggest orange harvest moon I've ever seen rise over the ocean. Just when we thought that day could not get better, we had another weird experience to end our day. We were on our buddies' boat for dinner. In the boating world it is common courtesy to avoid using another boat's head (toilet) because blackwater tanks are small, and no one wants to have to do a pump out because of another man's bladder. So being courteous, Derek went to pee off the back of the boat. It just so happens that their boat has transom lights under their swim deck which lights up the surrounding water. As Derek is peeing, at least a DOZEN sharks swim into the light under his stream. OMG, am I right???? At first I'm worried that Derek has blood in his urine from a UTI, or STD, or bladder cancer!!!! Then the same thing happened when we slowly poured water over the side using a pitcher. So we went from alligators to sharks. Oh how I miss the lake!

Our other noteworthy news is THE BIG CROSSING! The Gulf Coast between Carrabelle (in the panhandle) and Tarpon Springs, FL (on the west coast) is very shallow, so Loopers will cut across the 'bend' and travel across the Gulf in deep water between those 2 cities. It's just under 200 miles…with no land in site…and no place to anchor. In a boat that goes 8-9mph, that's 22 hours of nonstop cruising. We had to wait for a weather window of winds < 10 knots, and waves < 2 feet. Some boaters have to wait in Carabelle for weeks for a window. Our time came last Friday. We left at 1 pm so that we would not arrive before 10 am the next morning with the blinding sunrise obstructing our view of the hundreds of crab pots off the coast.

There is nothing like being in the middle of the ocean, with NO moon, through the night, in pitch black darkness. There was no cell signal, no internet coverage, and no buoys to guide us. Just our little GPS navigation screen at the helm. The water was a nice slow swell….until midnight. Then the waves hit…and lasted till dawn. This boat was definitely rocking. Gypsea was NOT pleased. I spent most of the crossing with her in my lap down in the salon. Due to the high waves and Gypsea's trauma, Derek wanted to drive the whole way, so he started drinking 5-hr energy drinks…with coffee! At some point he was talking so fast that I couldn't understand him. It went something like: "no I'm not hungry I'm fine how many volts are showing on the inverter battery, I hear whales how's the cat go back down I'm good " all in 2 seconds!!!! And speaking of the whales he thought he heard…they were dolphins blowing through their blow holes. The mystery was solved when Derek took our big handheld spotlight and shown it over the bow. There were 4 dolphins running in front of the boat and leaping in the air. Our own little escort service! Our angels in the crossing. The Gulf is teaming with dolphins and I get pictures of them next to the boat every day. They never cease to thrill me.

We are now in Clearwater, Fl where we'll leave the boat for a few days to spend Thanksgiving in Orlando with family. We used to live in Tampa, during the time that Connor and Trevor were born. Today we went to the spot on Clearwater beach where we used to take the boys. I wrote a little note in the sand for them, wishing they were here with us.

We hope that everyone has a safe and wonderful Thanksgiving. Special prayers going out to those who have loved ones that will not be around the table. Life is short… Buy a boat!

Love you all.